Adaptive snowboarding... aka "the long hellish path to be able to do it ;)
" Being interested to do some other sports besides Wheelchair basketball i started to surf the net to see what is out there to do for us disabled people. I must say plenty, and boy is there some crazy shit done on this rock we call earth!!!! Ever heared of downhill wheelchair racing? NO ? me neither but it exists.
However i am not tired of life so i wondered on untill i found a site about adaptive snowboarding http://www.original-gimp.com. I always thought of snowboarding to be cool so i started to read the site, mostly it was about snowboarding for amputees, but one picture caught my eye.
A person using a SNOWBOARD under a sit-ski. COOL.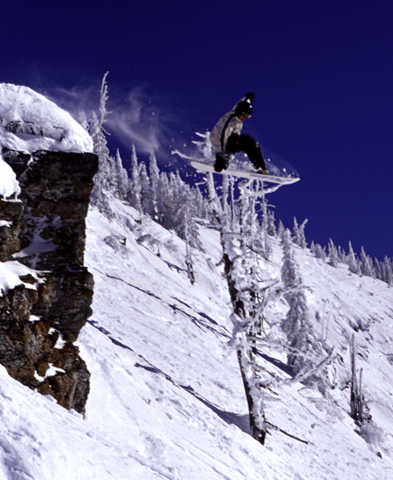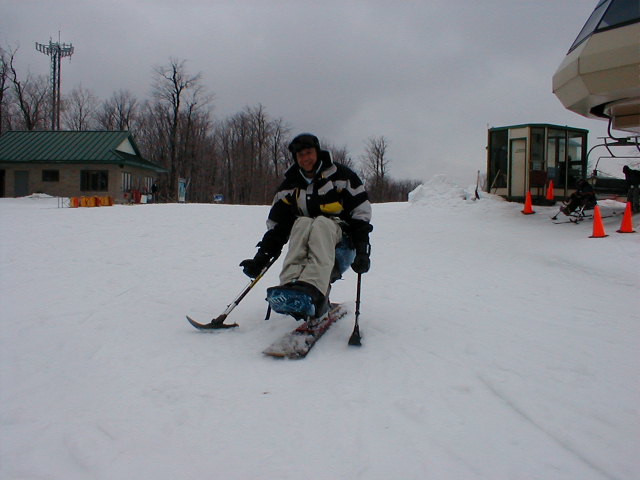 Reading further through this site it seemed that there was a device needed to adapt an alpine ski binding (used on a sit-ski) to fit onto a snowboard, and this was called the "TRENCHDIGGER 5000" The device was invented by paralympic skier Chris Devlin-Young.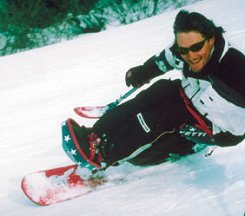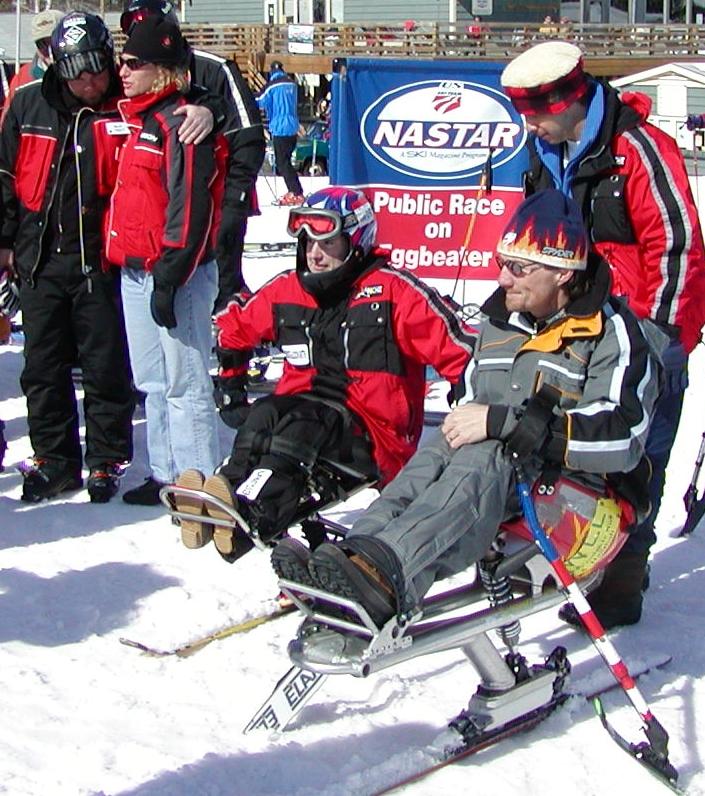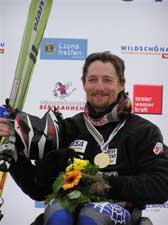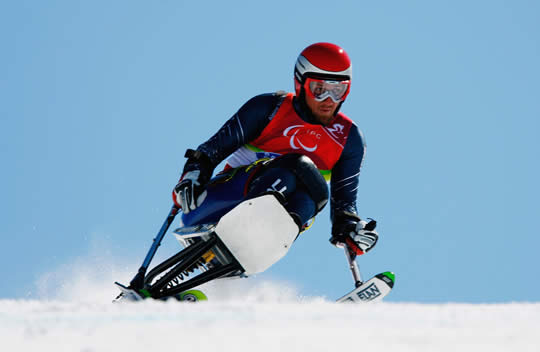 So my search for Chris and his Trenchdigger started, and boy it wouldn't be an easy one....
I started using google and stumbled on site from the US disabled ski team, the New England disabled ski team, sites of ski schools with programs for adaptive skiers, all having a link to Chris but he was nowhere to be found. Sending many mails and some answers later i still had no lead to reach Chris. But then a website of a local radio station NHPR in New Hampshire , the state Chris seems to live in got me by first big lead. I found an article and even an audio file of an interview Chris gave about his skiing career and even mentioned the trenchdigger!!! and best of all: they mentioned his e-mail address This email address is being protected from spambots. You need JavaScript enabled to view it. . My search had ended.... so i thought.... Sending a mail to Chris at the end of April 2004 i leened back and waited for his answer. And waited, and waited, and waited....
Some months later i almost gave up hope completely to ever find Chris and the elusive Trenchdigger....
But on a cold October morning i found a mail in my inbox titled "trenchdigger5000"!!! Could this be real?????
And yes Chris replied, it turned out that he spent the summer away from home not reading his mails. But hey who cares, i finally was in touch with him.
We are now more than a year further but no bit closer to the "Trenchdigger 5000". Chris is away from home very often to compete in sit-ski events, and i haven't heared from him in quite some time. So i took the matter into my own hands and took a slightly different aproach on the issue. I will start with plain old sit-skiing...
A guy i know from playing wheelchair basketball agreed to give me some sit ski lessons at Snowvalley in Peer (B). So Snowvally watch out here i come.....
So this week it was time. Dirk Vlassenroot contacted me to have a go at adaptive Skiing. We went to Snowvalley in Peer (B) for a couple of hours . Snowvalley is a nice indoor ski place with 2 separate slopes and a fun park. Dirk explained and showed me the basic and there we went ;) and I must say i amused myself, it simply rocks.
Here a movie of Dirk in action ;)

Today a few year later i enjoy sit skiing every winter and found a new organisation tha rocks...
For all people interested i would say have a look at www.anvasport.com